Why have I built my own Google Analytics alternative
I've been developing websites and web services for over 20 years, and I've been using Google Analytics (GA) since the Urchin days when everything was easy to access and navigate. However, with each new release, I've noticed that GA has become increasingly difficult to navigate. Instead of being able to check yesterday's stats with just one click, I need to click four times. Instead of being able to switch to another site with just one click, I need three clicks.
I used to joke that no one at Google who currently works on GA has ever owned a website, let alone two or more.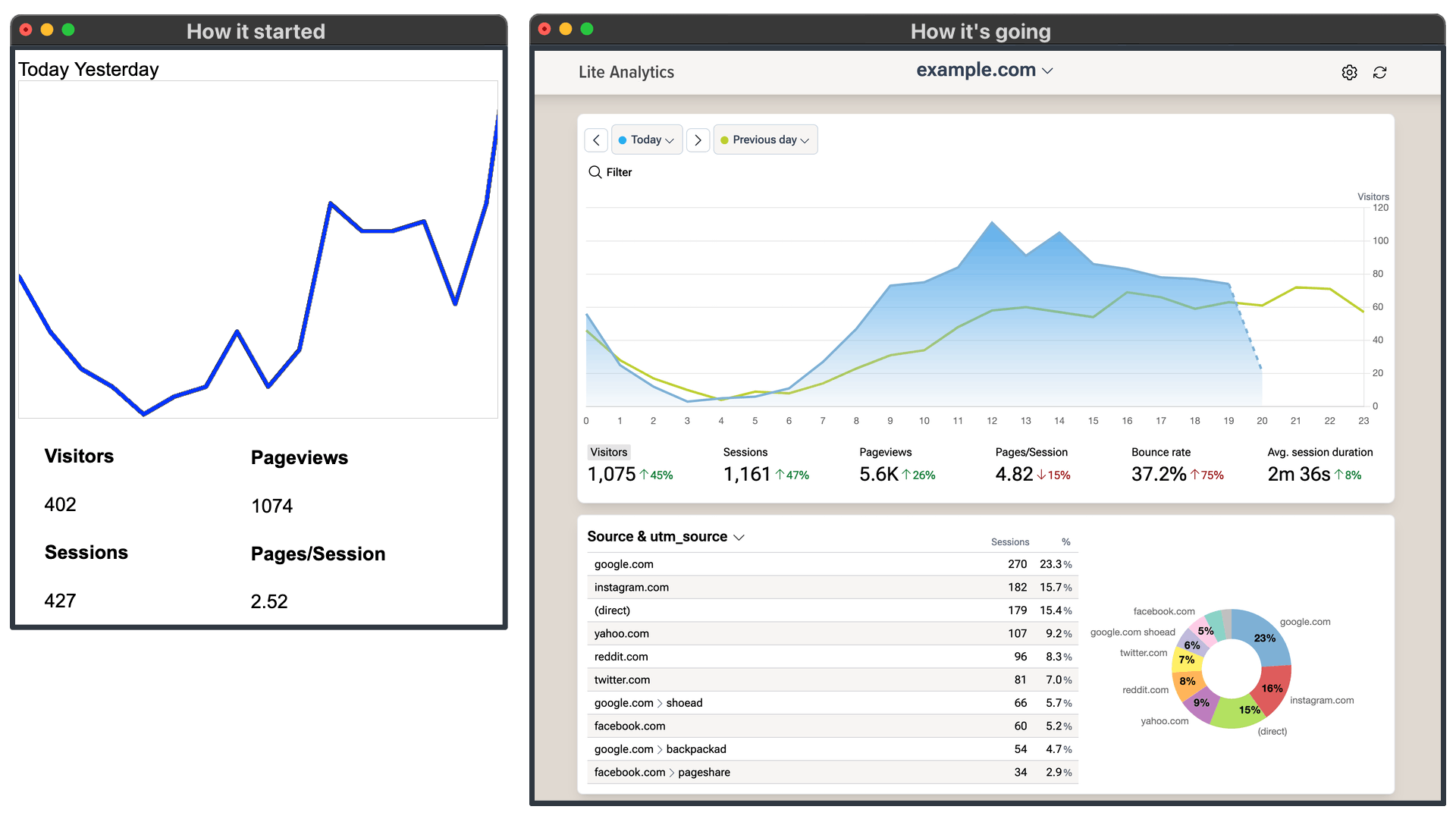 As a result, I've started to use GA much less than I used to. I felt disconnected from my users and my websites because I did not know where my users are coming from or what they're doing on my websites. All the data is there in GA, but it's buried deep within menus. For example, I need to navigate to Acquisitions -> All Traffic -> Sources/Medium just to find out how many visitors Bing sent me. Actually, when I did that one day, I was surprised by the Bing traffic on one of my sites, so that valuable data was hidden from me.
When you have low traffic on your website, you'll see your analytics data update every hour throughout the day. However, as your traffic grows, GA will update your analytics less frequently. For my busiest website, I can't see today's stats until the next morning, and sometimes it's crucial for me to see daily trends and adjust things on the fly. Although GA offers Realtime stats, I would still prefer updated analytics data rather than Realtime stats at the moment.
All my problems with Universal Analytics might be over now that Google has announced that it's retiring it and "upgrading" all users to GA4, right? 😉 I've used GA4 for Android/iOS apps statistics, and although it can provide basic analytics for native apps, even for native apps, it looked a bit unfinished. It turns out that Google thinks it's finished, and that all sites should use GA4. Once again I'm sure that all the data are there, it is just that I can't find it. To use previous example, I was unable to find out how many visitors Bing sent me in GA4. I had to Google to find out how to get this report. Maybe some data analysts will enjoy all the data they can process from GA4, but for regular webmasters, it's a nightmare.
The retirement of Universal Analytics was a wakeup call for me. I was already spending less time with my analytics than I wanted, so what am I going to do when they replace UA with GA4? From that moment, I started actively thinking about replacing GA or building my own Google Analytics alternative.
Google Analytics uses cookies to track visitors, and since many of us are logged in to our Gmail accounts on our laptops and phones, Big G can process and cross-match this data to gain insights into our online activity. After all we all know that Google knows everything about us. 😉 Since there has been many discussions about internet privacy and third-party cookies, I won't delve too deeply into this topic.
However, there is another aspect of using cookies on websites that is related to the UI and UX of your site, especially if your users are coming from Europe. Due to the EU's GDPR regulation, if your site uses cookies, you are obligated to display a consent pop-up to European users so they can accept cookies. As a user, I don't mind setting consent for the sites I use daily and weekly, but most of the time, I visit websites once in a lifetime through social media links or web search. Instead of getting the information I came for, I often encounter a large consent screen that I must close before using the site. The same goes for first-time users on my sites, who become distracted by consent pop-ups instead of focusing on the content.
Since HTTP is a stateless protocol, cookies are a fundamental web technology that keep websites working as we expect. While they can be used for ads and tracking, they are also essential for features like logging in, user settings and personalized experiences. Most of the sites I built rely on cookies for these purposes. But I also have some content websites or just landing pages for future products that I plan to launch, where I do not need to use cookies and hence there is no need to add a consent screen to the website. But if I use Google Analytics on those pages, then I would be obligated to include a consent screen, which is an overkill for such websites. Moreover, all the new visitors to my website would be unnecessarily distracted by the consent screen and poor UX.
That is the reason why I have decided to build an analytics solution that doesn't rely on cookies. In most cases, this eliminates the need for a consent screen on the website, allowing visitors to enjoy better privacy. Of course, without cookies, the analytics data will not be as comprehensive. However, it's important to strike a balance between respecting user's privacy and collecting the data necessary to run a successful online business.
I am not the first one to have noticed all these issues, and there are many other web analytics solutions available. I even tried some of them for my less-visited websites. I was not very pleased with the one I choose, but later I found even better ones. However, by that time, I had already begun developing my own solution. After all, if you are a carpenter, you don't go to IKEA to buy a new table; you build it yourself, at least if you don't have something smarter to do at the moment.
Web analytics might be affordable for low-to-mid traffic websites, but they are not cheap for high-traffic websites. I run some pretty visited websites, and some quotes I received for web analytics were in hundreds or thousands of dollars per month. Therefore, I decided to invest a fraction of that amount in hosting infrastructure and built my solution, which I will use and improve over time, to suit my needs and I hope some other website owners might like the direction where it is going.
And a few months later... and then a few more months later 😁 Lite Analytics was born.
Miloš, the founder of Lite Analytics
Published: 2023-04-10