Simple lightweight Google Analytics alternative
Privacy based and cookie-free analytics for your website
Sign up for 30 days free trial, no credit card needed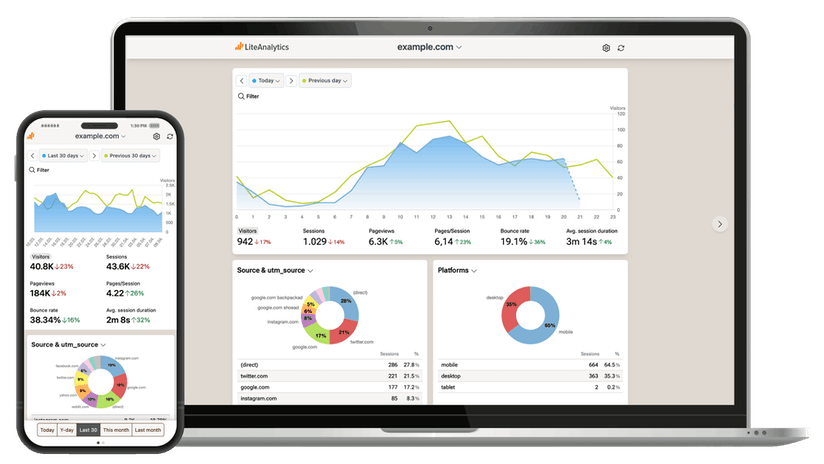 Simple and easy to use dashboard
Introducing a simple and highly configurable dashboard for your website that provides a quick glance at all the key metrics. Unlike Google Analytics, where data is often buried deep inside menus, our dashboard makes it easy to access all your important information in one place. With our dashboard, you can easily navigate between multiple sites and time periods. Whether you have two websites or several, you can quickly switch between analytics and view daily stats for each site. Check out the live demo.
Privacy based analytics, no tracking cookies
Lite Analytics does not use cookies to track visitors, ensuring better privacy protection for your website's visitors. The technology we employ ensures that we cannot track visitors across multiple websites or cross-link visitor data between various devices or even browsers. To learn more about how we collect data, please read our data policy.
Say Goodbye to annoying cookie consent banners
With Lite Analytics, you can forget about the need for cookie consent banners. Our service doesn't utilize cookies, freeing your site from intrusive pop-ups that can bother visitors, clutter your layout, and slow down your page's loading speed.
Hosted in EU, GDPR compliant
All your visitor data is hosted in the EU and never leaves the EU, making Lite Analytics GDPR-compatible and suitable for websites targeting EU countries. Visitor data is used exclusively for analytics purposes and not for any other reasons. To learn more about how we collect data, please read our data policy.
Fast and lightweight script for speedy pages
The Lite Analytics script that you embed in your web pages is exceptionally light and speedy. Weighing in at a mere 2.5Kb and slimming down to just 1.5Kb in transfer size when compressed over the network, it ensures that your web pages maintain their lightning-fast loading speeds. Despite its feather-light footprint, this script provides comprehensive, detailed reports on your site's performance. This speedy performance not only improves user experience but also bolsters your SEO, as page speed is a crucial factor in search engine rankings.
Pricing plans for websites of all sizes
Lite Analytics pricing plans will grow with your business.
Free
10.000 pageviews

2 websites

1 user

Email support
Start
50.000 pageviews/events

10 websites

2 users

Custom events

Email support
Business
200.000 pageviews/events

€2/mo for every additional 100.000 pageviews/events

100 websites

50 users

Custom events

Email support
If your sites collectively record more than 1M pageviews per month, feel free to contact us for special deals and discounts.
Sign up for free trial without credit card and pick your plan after 30 days trial period